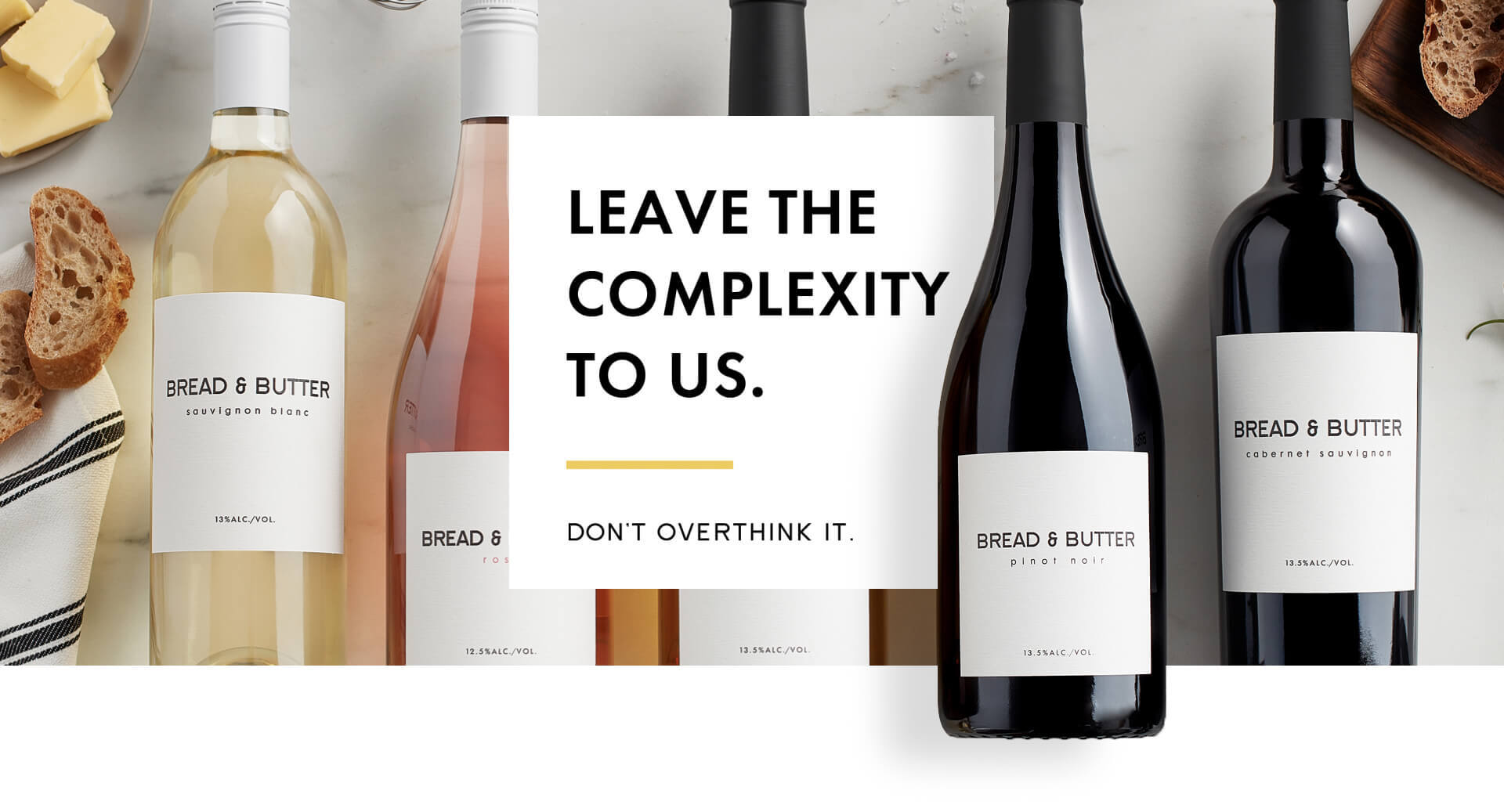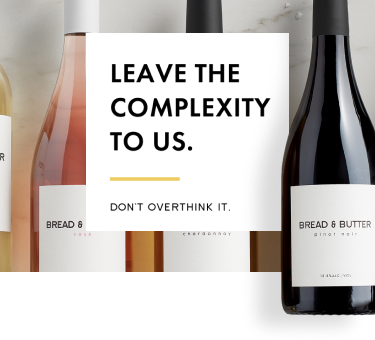 our story
we believe good things
shouldn't be complicated.
At Bread & Butter, we believe good things in life shouldn't be complicated.
Good things should just be, well, good. Good, honest, and delicious. And uncomplicated.
Because when we second-guess, overthink, and decide that every little thing is so important…We're ignoring what really matters. The good. The honest. The delicious. And the uncomplicated.
Which is why our Award-Winning Veteran Winemaker Linda Trotta makes thoughtful wines that don't require any extra thought to enjoy.
And those thoughtful wines? We have a carefree space where you can enjoy them. A tasting room dedicated to enjoying simple pleasures in a space that's comfortable, homey and authentic.
Because we believe wine shouldn't add to the stress of everyday, in fact, it should do just the opposite. A great bottle should give you the opportunity to take a breath, let your shoulders drop, and stop overthinking. Go ahead, take a sip. And don't overthink it.
We hope to see you soon.
Address

3105 Silverado Trail, Napa, CA 94558

1-833-33 Bread (1-833-332-7323)

[email protected]
Hours Of Operation

Appointments can be made 10 am – 4 pm

Open Daily
get to know
Winemaker Linda Trotta
Winemaker Linda Trotta believes that "A good wine is a wine you like." With a career spanning three decades and four continents, Linda Trotta knows how to make good, honest and delicious wines that people like. And love. Linda leads the winemaking of all Bread & Butter wines, including our limited-release wines. ​
Prior to joining Bread & Butter, Linda held Head Winemaker and Director of Winemaking titles at prestigious wineries such as Jamieson Ranch Vineyards, Swiftwater Cellars and Gundlach Bundschu Winery. In 2018, Linda was named the North Bay Business Journal's Napa Valley Winemaker of the Year.​
A southern California native, Linda earned degrees in Enology from UC Davis. She is involved and has held leadership roles with organizations that champion the advancement of women's careers in wine.
Her favorite part of winemaking? Probably the wine making.
experience
What we're all about
Good. Honest. Delicious. Get a glimpse into our world below.